Comment Snake is a widget you can add to your stream where a moving snake will appear in your studio that grows every time your viewers leave a comment on your stream.
One commenter = 1 segment added to the snake's body
How to enable the Comment Snake
1. Click on "Widgets" from the options on the left side of the studio.
2. Tick the box beside "Snake" to enable it.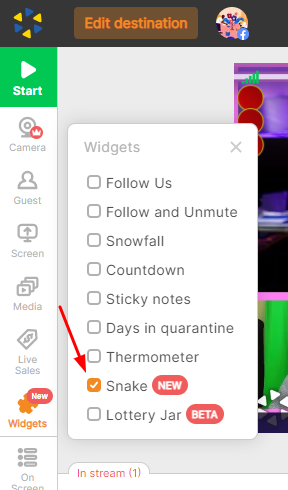 Be the Head of the Snake
Start a game! Encourage the viewers to leave a comment to be the head of the snake. The latest viewer who leaves a comment will be the head of the snake!
Impact on the Viewers
Viewers are the most important asset streamers have, they are spending time with us, helping us to spread the word, bringing recognition to the stream, and eventually converting into buyers, but they need to be recognized.
With this feature, they will become part of the studio, literally on screen. The growing snake symbolizes growing engagements. Finally, a special way for them to be recognized!
Impact on the Live Streamers
No more boring screen with the moving snake!
Improve your engagement with your viewers and encourage them to be part of your stream.
Things to Know
The snake can grow up to 30 segments
Viewers who didn't give access to use their name/profile image in the group won't be able to participate in the snake.