Do you want to showcase the products from the Amazon stream carousel on your screen during the broadcast? It's now easier than ever to do that with Be.Live!
With our new feature, you can import the images, title, descriptions & prices for all the products that will be featured in your stream and show them on screen during your broadcast!
Step 1
First of all, make sure you've added all needed products to the stream in the Amazon Live app and connect your stream to Be.Live. You can learn how to do that here.
Step 2
Once everything is set up, start your stream in Be.Live and Amazon.
Step 3
The list from the carousel automatically appears in staging within a few minutes after you go live. The name of this list will be the same as your Amazon stream title.
Step 4
Click on the "Show in stream" button to show the product on the screen :) That's it! Once you've added the product to the screen, your viewers will be able to see its image, title, description, and price.

Also, the product link will be sent to the comments on the Facebook page, timeline, and Youtube once you show the product on the screen. To add affiliate links to products, add Tracking ID in the destination settings once setting up the stream to Amazon.

You can also switch between products by clicking on the arrows on the carousel source. You can also see all the products in the carousel and switch between them by selecting the item in the section about stream preview: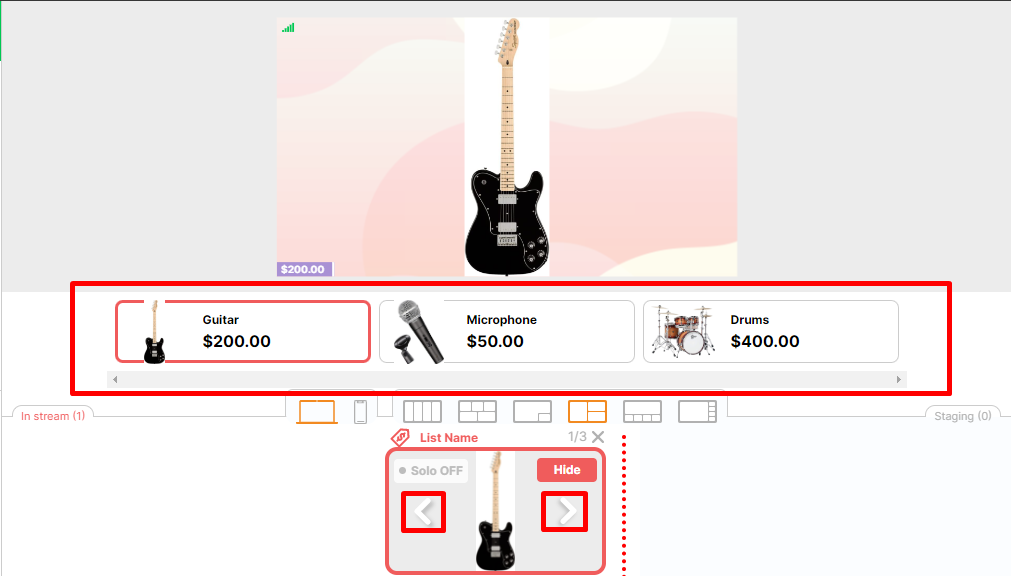 Note: the product carousel won't be deleted from the Live Sales list after the stream. If you want to remove old carousels, you can do that in list settings -> Delete.
Happy broadcasting!
Check out our articles on how to go live on Amazon, Facebook and YouTube.