In this article, we answer the most common questions about broadcast comments and reactions.
Q: Where do I see comments posted to my broadcast?
A: Comments will appear under Public chat after going live. Use Host chat to communicate privately with your guests.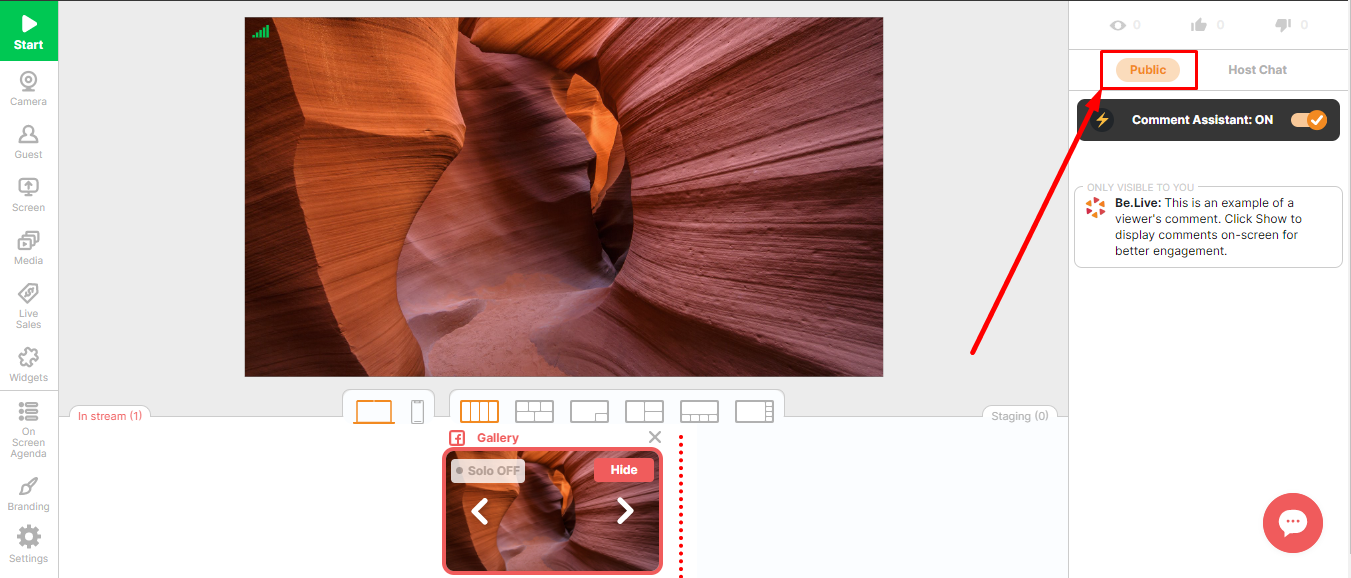 Q: I'm streaming to multiple platforms. How will I know if the comment was posted on Amazon, Facebook or YouTube?
A: The Amazon, Facebook or YouTube logo will appear next to the commenter's profile picture. Hovering your cursor over the comment will also display the exact destination it was posted to. In the example below, the comment was posted to a Facebook group entitled "Be.Live Team".
Q: How do I send a comment to my viewers?
A: Use the chat box at the bottom. You can only send comments from Be.Live when broadcasting to YouTube channels and Facebook pages (due to Facebook restrictions). It is also possible to send the comment from Studio only after one of the viewers has already left a comment on one of your destinations. If you want to comment first, as a workaround you can go to one of your destinations and leave a comment there, after that you will be able to comment from the Studio as well.
If broadcasting to Amazon, it's not possible to send comments from the Studio, comment in the Amazon app directly. If broadcasting to a group or timeline, comment on Facebook directly. If multi-streaming, you can choose to post the comment to all destinations or just one.
Q: How do I see new Amazon followers?
When broadcasting to Amazon, you'll see a number of new followers in the section above the Public chat. You can also see the names of new subscribers: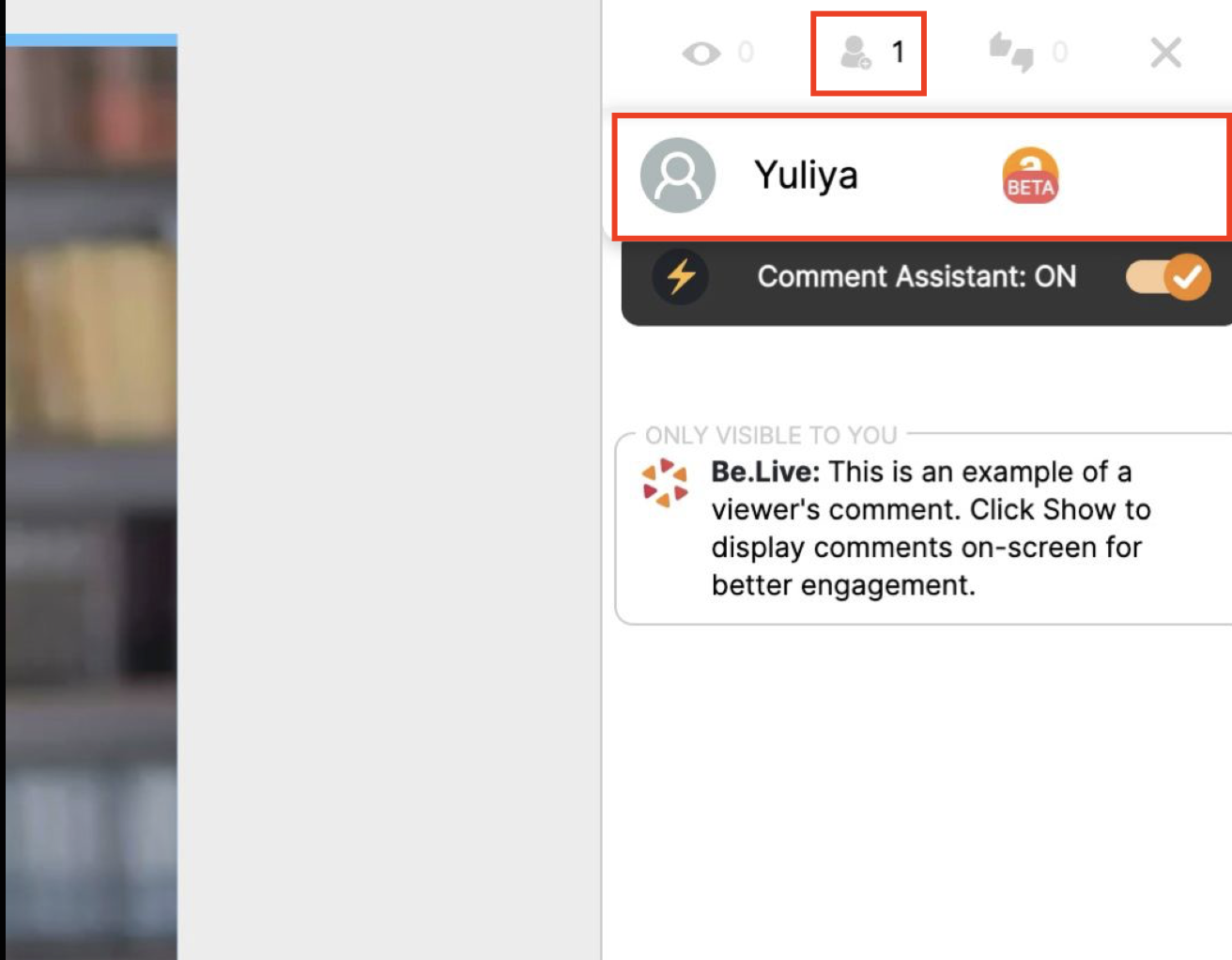 You will also see a notification once you have a new follower during the broadcast:

Q: How do I see reactions on my broadcast?
A: The number of viewers and reactions is displayed in the section above Public chat. Clicking the arrow will display Facebook reactions but only from users you're friends with. YouTube does not provide the names of those who liked your broadcast.
Q: How do I display a comment on my broadcast?
A: Click Show next to the comment to display it on the screen.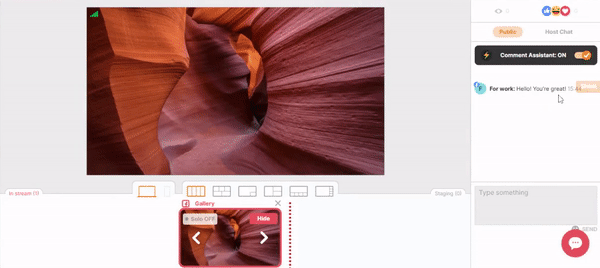 Q: Why aren't comments appearing in the Be.Live studio?
A: If broadcasting to Amazon, make sure you've used the correct broadcast URL. If wrong URL was used, comments won't appear in the Studio.
If broadcasting to your Facebook timeline, make sure that the privacy of the post is set to Public. Comments do not appear in the studio if the broadcast is set to private or only to a particular audience.You can learn how to change your privacy settings on Facebook here.
Q: What is Comment Assistant and how does it work?

A: Comment Assistant is a unique Be.Live feature that helps automatically showcase positive comments and questions during your stream. It really comes in handy when you engage with your audience a lot! You can enable or disable it before any of your broadcasts by switching the toggle.

Check out more about this feature here.
Q: I'm streaming to my Facebook group. Why are commenters' names appearing as 'Facebook User'?
A: Facebook no longer allows third-party apps like Be.Live to access information about group members. Luckily, there is a way around this! Full details here.
Q: How can viewers comment on my YouTube broadcast?
A: Viewers must be signed in to their Google accounts to post a comment. Only comments from Top Chat on the right will appear in the studio. Comments made under your video post will not appear.
💡Useful tip: with our new Comment Assistant feature, the positive comments and questions will automatically display on your screen to make your broadcasting experience better than ever! Check out more here.
Related articles