Overview
Decided to level up your streams by using our premium features? It will take you just a few minutes to upgrade to one of our paid plans.
How to make a payment
First, visit our Pricing Page and select the plan that best fits your needs. After that, click Pay Now under the plan name to proceed.
You will be redirected to the following payment form: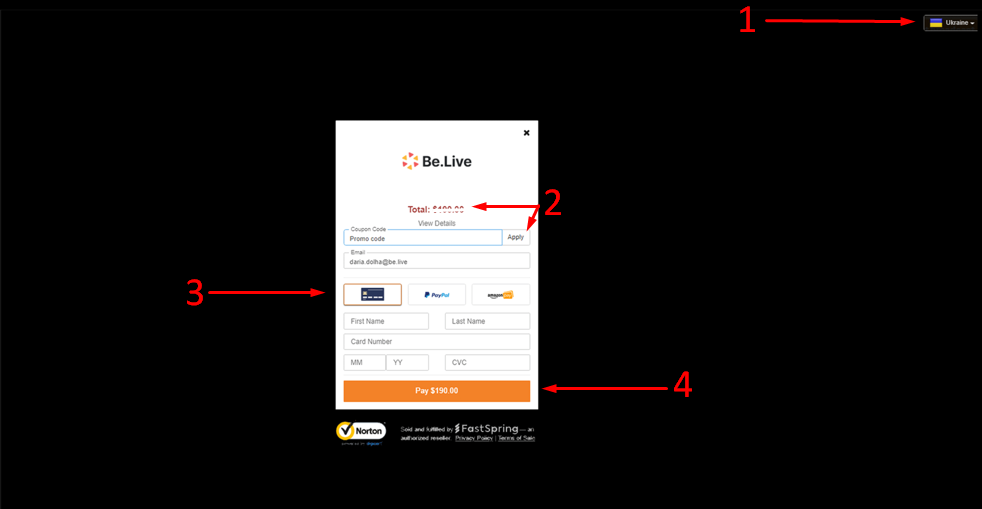 Here, you can change the language and your location along with the currency of the payment. You can check what exactly currencies are supported here.

The total amount will be reflected here. You can also enter your promo code here (if applicable).

Select your preferred payment method: credit/debit card, PayPal, or Amazon Pay (available in select regions).

After filling out the form, confirm by clicking Pay.
After payment
Shortly after, you will receive a confirmation letter through the email address you added to the form.
Other details
If you wish to transfer your paid subscription to another account, check out this article.

All payments are auto-renewed.

If you do not have sufficient funds during payment day, your paid subscription will remain active and we will try to charge you again the following week. However, if no payment goes through within the upcoming month, your subscription will be downgraded to the free plan.

If you wish to cancel your subscription, contact Support via chat (link below).

The yearly subscription is non-refundable. This means you will not receive a refund if you cancel mid-year. For reference, you can check our Terms of Service under "Cancellation/Refund Policy".