Have you ever dreamed of having the possibility to invite other members to your account, co-produce engaging live streams effortlessly, or even enlist a personal assistant to enhance your streaming experience?
Be.Live is proud to turn these dreams into reality with the introduction of Team Accounts, a feature that's set to transform the way you approach live streaming!
In this article, we'll explore the potential of this feature and why it is poised to be a game-changer for streamers and content creators on Be.Live.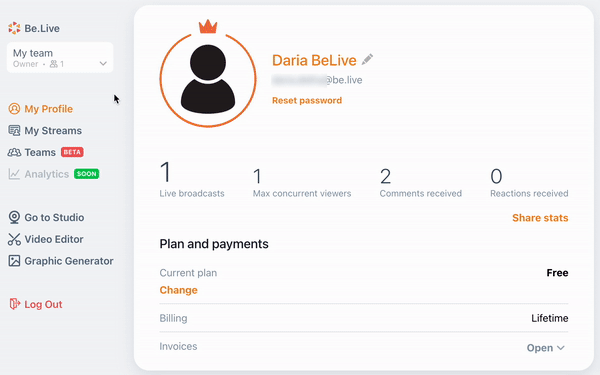 ❓ Why Team Accounts Matter
1. Your Personal Streaming Assistant:
Team Accounts offers the possibility to have a personal behind-the-scenes assistant, that will handle all the technical aspects while you can focus on content creation.
Top benefits:
More polished broadcasts: Let your assistant manage graphics, chat moderation, and other routine tasks, allowing you to concentrate on delivering engaging content during the stream.
Improved efficiency: If your assistant has more powerful streaming equipment

, they can manage the technical side, so you can expect fewer hiccups and a more professional broadcast quality.

Easy post-production: Let your s

treaming partner

care about the streams downloading, editing, and repurposing the content to other social media which

allows you to extend the lifespan of your content.
2. Co-Presenters Made Simple:
Do you want to go live with a colleague or guest? Team Accounts make this process a breeze. Invite others not just as guests but as co-hosts or co-producers to join your live broadcasts and create engaging content together.
Top benefits:
Enhanced interaction: Co-presenter can engage with your audience, share insights, and provide a dynamic and diverse streaming experience.
Shared responsibilities: Distribute hosting duties, such as monitoring comments or managing graphics for a smoother broadcast.

Facilitating content sharing

: C

o-hosts can access the Streams and download, edit, or repurpose the shared broadcasts, which will allow them to share content on their social media platforms as well, resulting in reaching a wider audience.
3. Optimized Collaboration for Businesses & Organizations
Be.Live Team Accounts are tailored for businesses, organizations, and collaborative efforts that require multiple hands on deck. Experience a seamless partnership between presenters, producers, and managers, all within one unified streaming studio.
Top benefits:
Collaborative Content Creation: Teams can collectively upload media files and develop a well-rounded agenda. Everyone contributes, and everyone's voice is heard.
Flexible Role Allocation: With all members having access to one studio, it's simple to rotate responsibilities. Whether someone is presenting or managing in the background, adaptation is seamless.
Unified Team Studio: A shared space means that past streams are always accessible. Team members can download, review, and edit past broadcasts, ensuring that post-production is a cohesive effort.
🔗 Learn how to invite/manage your Team members, and all the feature limitations in this article:
With the introduction of Team Accounts, a new era of collaboration and convenience is here! So, make the most of this exciting feature and elevate your live-streaming experience with Be.Live! ✨
Related articles: