If you wish to go live on YouTube now without scheduling, click here. If you wish to schedule a broadcast to multiple destinations, click here.
Video Tutorial
Want to announce your YouTube broadcast a few days in advance? Here's how to do it from the Be.Live studio.
Related video tutorial: How to Stream with Be.Live - A Complete Tutorial [YouTube]
How do I schedule a YouTube broadcast?
1. First, verify your YouTube account. Note: the verification process takes up to 24 hours.
2. Log in to your Be.Live account using the latest version of Google Chrome or Safari.
3. From the studio, click Set destination > enable Schedule Stream > set the broadcast date and time > Select YouTube as your platform: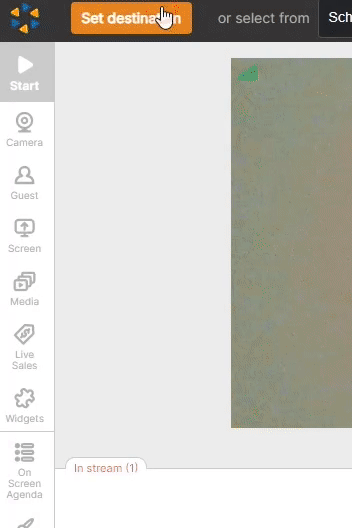 4. From the popup window, select the Google Account to connect with Be.Live. You may go live on your Personal or Brand Channel. Click Allow to give Be.Live permissions to your Google account.
⚠️ Important note: Be.Live will not post without your permission. This is a standard agreement for YouTube/Google when giving permissions to a third-party app. It only means that you will have access to your YouTube channel and be able to create/edit shows, access comments, and delete your shows directly from your Be.Live account.
5. After connecting your account and allowing permissions, select your preferred stream privacy:
Public - can be viewed by anyone on YouTube

Private - can be viewed by people you select

Unlisted - can be viewed and shared by anyone with the link. Unlisted videos will not appear under the "Videos" tab of your channel or YouTube search results unless someone adds your unlisted video to a public playlist.
6. Upload a cover image or create a custom image using our Graphic Generator!
7. Add a title and description for your stream.
8. Hit Save.
How do I access or edit my scheduled broadcast?
Click Scheduled streams and select the broadcast from the dropdown menu:
​
Once selected, stream settings will appear on the left side of the studio. From here, you can change the time/date, stream privacy, cover image/thumbnail, and title/description. You cannot change the destination for an existing scheduled broadcast. Hit Save to apply any new changes.
How do I start my scheduled broadcast?
After accessing your scheduled broadcast, click Camera from the toolbar to push your webcam to the staging section: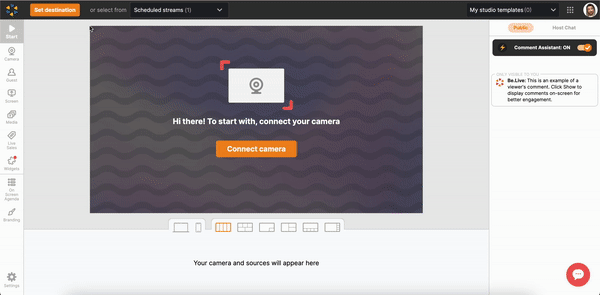 Related article: How to Check Camera and Microphone Settings Inside the Production Studio
Click Show in Stream to push your camera to the broadcasting section. Afterwards, click Start to begin your broadcast. A 3-second countdown will appear to signal the start of the stream. To end your broadcast, click the stop button:
Related article: How to Download Broadcasts from Be.Live
To learn about viewer comments, check out our article on Studio Comments and Reactions.
Will my scheduled broadcast go live automatically?
No. It only serves as an announcement to your viewers about an upcoming broadcast. You need to start it manually.
How do I share the broadcast link?
To share the broadcast link ahead of your show to your audience, click your profile photo from the studio, select My Streams, and locate the link there.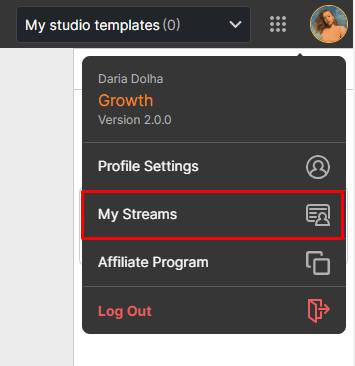 Other things to know
If you want to stream a scheduled show with Be.Live, it needs to be scheduled directly from the Be.Live studio. It is not possible to link a show that was previously scheduled on YouTube.

You are required to start the broadcast within 10 minutes after the scheduled time. Alternatively, you may also start the broadcast earlier.
Cover image guidelines
Supported formats - .jpg or .png

Size - up to 3mb

Ratio - 16:9 (i.e. 1920x1080, 1280×720, etc.)

File name - no symbols or special characters
Want to create a cover image for your show? Click here to learn more about our Graphic Generator feature!