Learn how to go live on Facebook here. To stream to multiple destinations simultaneously, click here.
Set-Up
To create an event and go live, you need the following:
Desktop computer or laptop

The latest version of Chrome or Safari browser

Web camera

Stable internet connection to avoid lags and delays. We recommend using a hard-wired connection (ethernet).

A pair of headphones to avoid echo and feedback

A Facebook profile or a business page

Be.Live account. Click here to create an account or login.

Related article: How to Set Up an Account with Be.Live
Setting up your Facebook event
Login to your Facebook account, click the plus (+) icon on the top right (next to the bell) and select "Event" from the options.
❗️ If you're on a Facebook Page, look for "Events" on the left side of your Page under your Profile's name
2. Click on "Online" option


3. Then select the Event type according to your needs


4. Fill in the date, time, end date and time if needed

If you want your guests to be able to invite friends, switch on the "Guests can invite friends" toggle.
Note: if you're creating an event from a Business profile, the event details will be slightly different; You can create a free or paid event, add location and category.

5. Then select the privacy of your event
6. Once done, click "Next" and choose a location for people to join your event. Select "Facebook Live" from the options to stream to your event.
7. Add the description of your event, click next and upload a cover image or choose an illustration
8. Click on "Event settings" and add co-hosts and "Show guest list" if you want this option to be enabled.
Finally, once everything has been added, click "Save" and "Create an event".

Setting up Live Video on Facebook

1. Once you've created an event, click "Set up Live video"
Alternatively, go to the Events page and select the event under "Your Events". Click on the event to see the "Set up live video" button.
2. In the following window click on "Streaming software" and copy Stream Key and Server URL. You will need them to connect your Be.Live broadcast to the event.
Setting up your Be.Live broadcast
Go to your Be.Live studio > Set destination > scroll down to Custom RTMP
2. Insert the Stream key and Server URL that you copied in the previous step and click Save.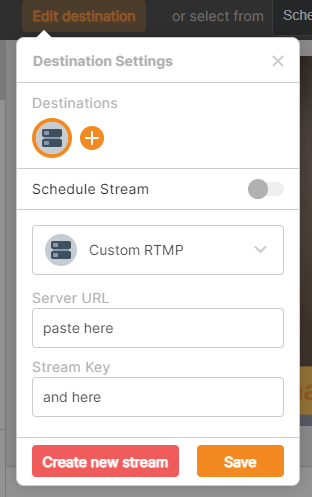 3. Once you have everything set up, add the needed sources to stream and click on the Start button inside your Be.Live studio.

4. Go back to Facebook and click "Go live now" inside your event on the bottom of the left side. Confirm, and you're good to go!
That's it! Happy broadcasting! 🧡
Q&A
_______________________
Can I edit the time and date of my event?
Yes, you can edit the time and date in the settings of your event. You can also edit the title, description, cover photo, event format type, guest list visibility, and co-hosts. Please note that you cannot edit the event privacy, the "guests can invite friends" setting and the ticket cost after creating an event.
Will I see comments from the event in my Be.Live studio?
No, comments don't appear in the studio when streaming with custom RTMP.
How can my guests join the event?
Invite your guests directly to your Be.Live broadcast by sharing a guest link with them. The guests added to your Be.Live studio will appear on your event once you add them to stream. Learn more about adding guests here.