Learn how to stream to Amazon here, YouTube here, Facebook here, TikTok here and to LinkedIn here. To stream to multiple destinations simultaneously, click here.
Instagram is currently testing its RTMP feature. Access to Instagram Live RTMP is currently limited and is available only on the desktop version and not within the phone app itself, but if you have access to this feature there - you can go live on Instagram with Be.Live! Here's how:
Setting up the Instagram destination
Step 1
Open instagram.com on your desktop, click the Create button, and select the Live video option from the dropdown menu:
Note: If you do not see the Post/Live video options, you do not have access to Live Producer yet.
Step 2
When the Go Live screen opens, enter the title of the broadcast. After that select your audience: choose Practice if you don't want your stream to be broadcasted to anyone and Public for your show to be streamed to your Instagram followers: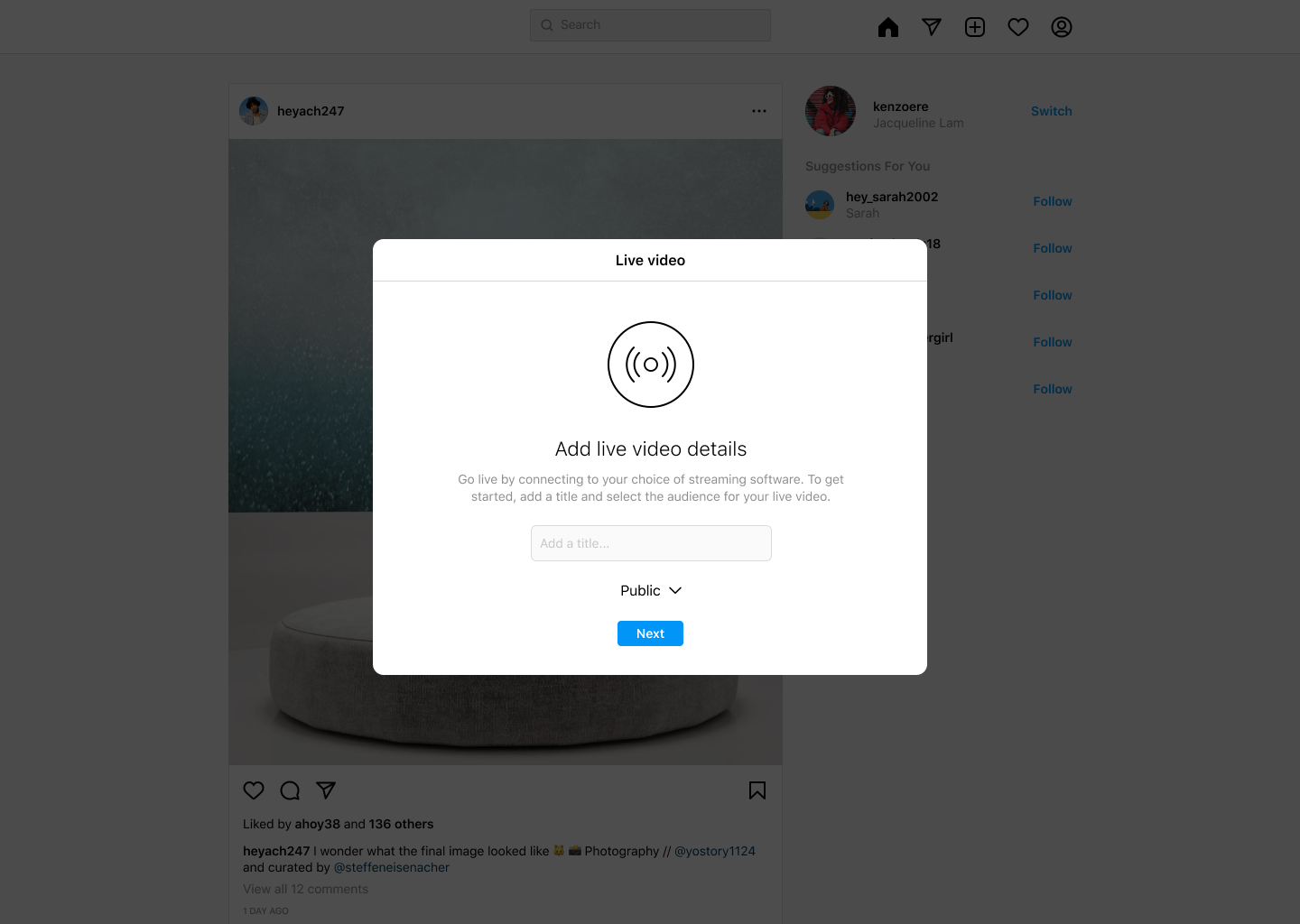 Step 3
After clicking on the Next button, the screen with your unique Source URL and Stream key should be open. You will need to copy those broadcast credentials to insert them later in your Be.Live studio: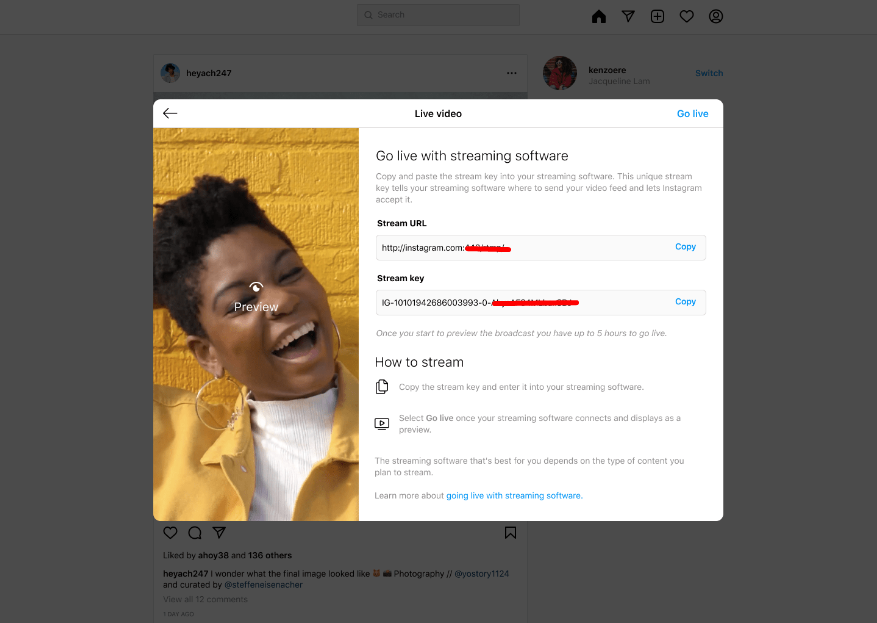 Note: The Stream key is not static, and will refresh each time you use Live Producer.
Setting up the Be.Live Studio
Step 4
Now let's head over to your Be.Live studio and set up a broadcast there.

Select the Instagram destination and insert the Server URL and Stream key from the previous step and click on Save: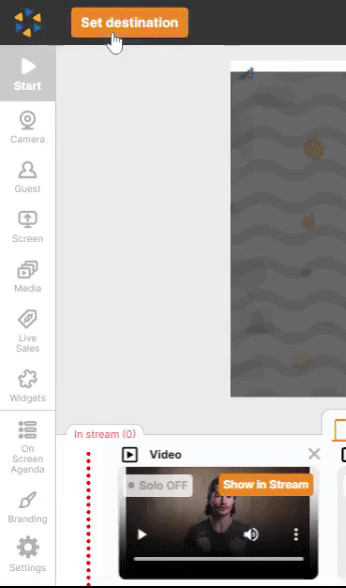 At this point, you can also create a simulcast broadcast and stream to different destinations along with your Instagram one.
Related article: How to Stream to Multiple Platforms (Multistreaming)
Step 5
Now that your destination is set, click Camera from the toolbar to push your webcam to the staging section: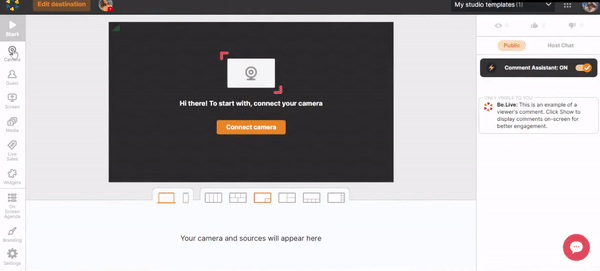 Related article: How to Check Camera and Microphone Settings Inside the Production Studio
You will notice 3 buttons on the camera source:
Show in Stream - pushes your camera source to the broadcasting section

Mute - disables your microphone (viewers stop hearing you)

Stop video - disables your camera (viewers stop seeing you)
Move yourself to the broadcast by clicking Show in Stream.
Step 6
After pushing your camera to the broadcasting section, click Start to begin your broadcast. A 3-second countdown will appear to signal the start of the stream. To end your broadcast, click the Stop button: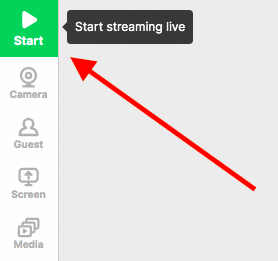 Step 7
After starting the stream on Be.Live, it should appear in the Preview section on Instagram. Click Go Live on Instagram, to begin broadcasting!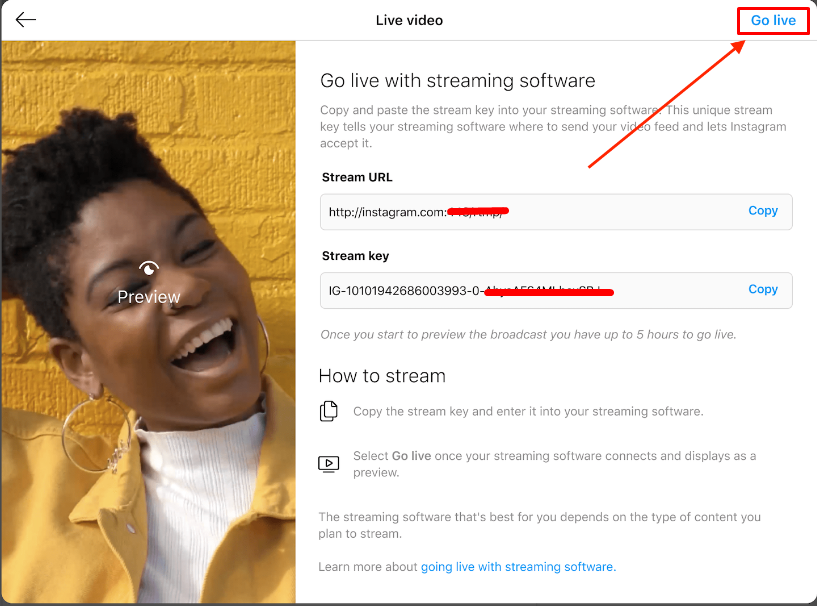 Please make sure to start the stream on both platforms: first in the Be.Live Studio and then on Instagram.
Step 8
❗ Once your broadcast is finished, make sure to end the video on both platforms. Click End Live Video on Instagram, and the Stop button in the Be.Live Studio.
That's it! You're ready to start streaming on Instagram! 🤗