Overview
It's always a good idea to test a new platform to understand how it works and be better prepared for your upcoming show! Good news - you can check how everything in the Studio works without starting your broadcast by doing a test.
Testing the Be.Live studio
Firstly, open the Be.Live Studio. In the middle, you will see a preview window - this is what viewers will see once you go live. You can test all the features and immediately see what they would look like on the live broadcast.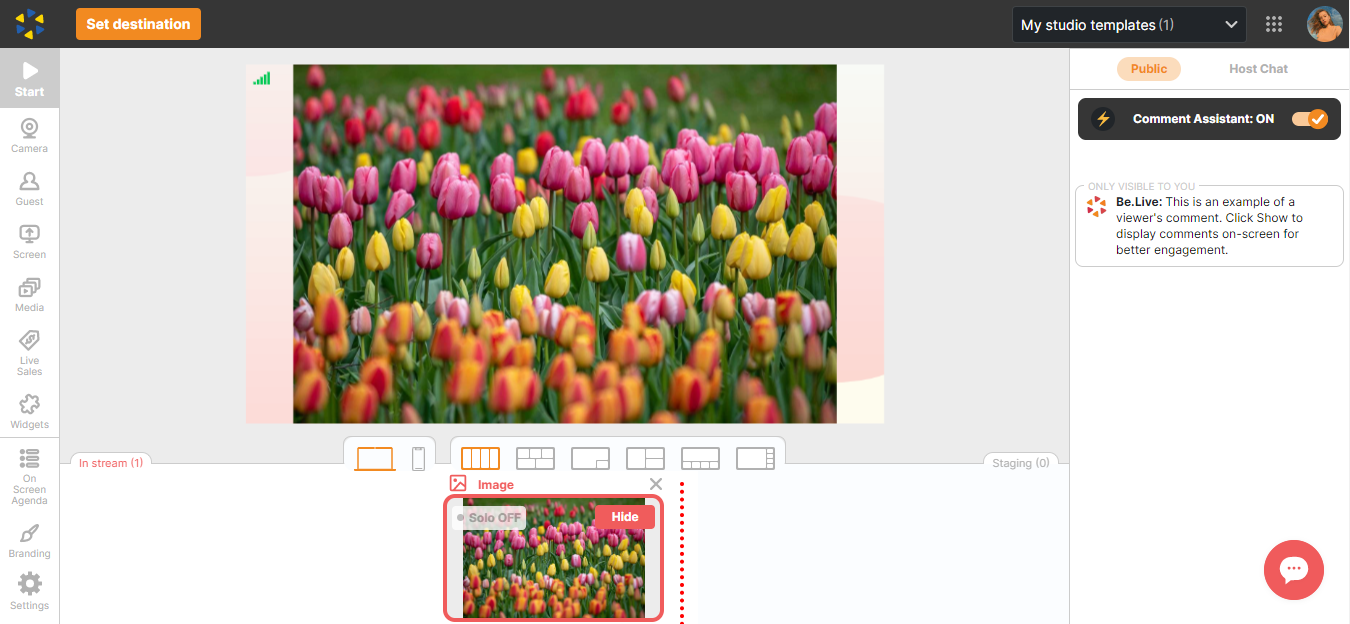 Features
From the toolbar on the left, you will see a set of buttons each representing a feature or functionality:


You can play around with all of these features and see what the live broadcast would look like in the preview window.
💡 Useful tip: Drag and Drop functionality provides smoother transitions when changing the order or adding new sources to the stream.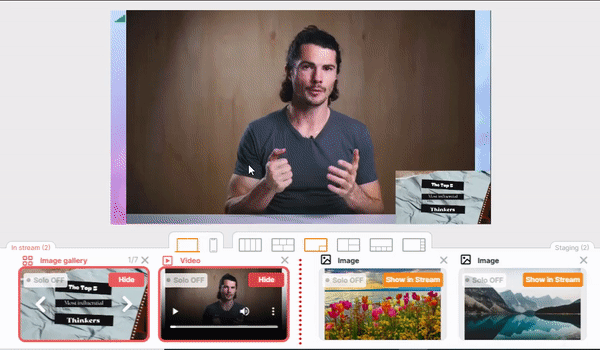 Recording an offline broadcast
You can set your destination to Offline Broadcast and record your test stream and then download it to see what it looks like on the video. Once you set up your camera or any other video source, click Record, test different features, and finish the recording.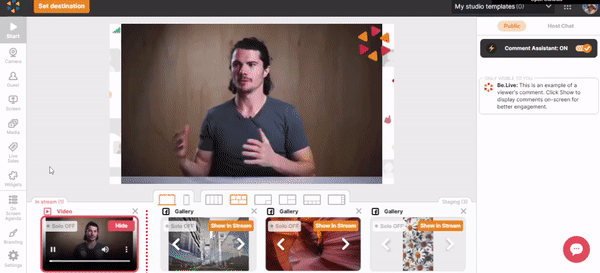 Your recording will be ready within an hour. Download it from My Streams page: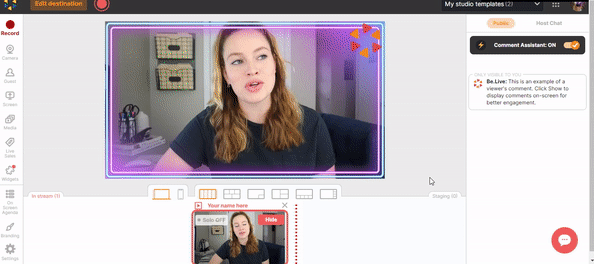 Testing is a great way to see yourself in action and ensure your mic settings are in check.
Testing with Facebook
If you want to test how broadcasting to Facebook works, you can go live to a separate private group or change the privacy settings so only you would see the broadcast. You can find more detailed instructions here.
Testing with YouTube
With YouTube, select "private" or "unlisted" privacy for the broadcast in the destination settings and your live show will not be visible to your subscribers. You can find more information in this article.
Other things to know
If you only see information from a previous broadcast and cannot start a new test, what should you do?
This is how the studio works. All past broadcast information (destination, title, description, etc.) is saved to eliminate the need to set it all up again for your next broadcast.
To start a new test, click the Create new Stream button to clear all past data. Don't worry - this button will NOT delete any of your scheduled broadcasts. It will simply reset the broadcast destination.