Engaging your audience goes beyond just broadcasting your content. With Be.Live's array of engagement tools, you can elevate audience interaction, making your livestreams memorable. Here's a quick guide on how to tap into these tools and get your viewers actively participating:
1. Displaying Comments on Screen
When viewers feel heard, they're more likely to interact. By showcasing their comments on screen, you're fostering a two-way conversation, and building a participative and loyal audience.
🔗 Learn how to set it up and its benefits here
2. AI Comment Assistant
Let technology do the heavy lifting! The AI Comment Assistant smartly displays positive comments and pressing questions on screen. This allows you as the host to focus on the show's content and conversation rather than sifting through every single comment.
🔗 Discover how to make the most out of the AI Comment Assistant here
3. Widgets - Engage Differently!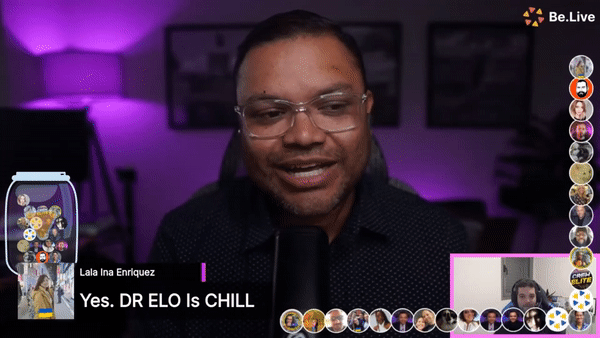 Snake: Turn your viewers' profile images into a live snake. As new comments pour in, watch the snake grow, featuring the latest commenter at the front! A fun way to visualize engagement.
Lottery Jar: Fancy some gamification? Collect viewer comments in a jar and randomly select a lucky winner live on stream. An interactive way to boost participation and excitement.
🔗 Deep dive into Snake and Lottery Jar here: Comment Snake & Lottery Jar
🧚‍♀️
Best Practices: Do's and Don'ts of Audience Engagement on Be.Live
✅ Do: Respond to comments, even if briefly, to acknowledge your audience.
✅ Do: Use the widgets in moderation. Overusing can make the stream feel gimmicky.
❌ Don't: Rely solely on the AI Comment Assistant. Sometimes, manually picking a comment can create a personal touch.
✅ Do: Encourage users to participate in the Lottery Jar or comment to be part of the Snake, but ensure there's valuable content alongside.
❌ Don't: Let negative comments derail your stream. Focus on the positive and manage negativity off-stream or during breaks.
💁‍♀️
Bonus Tip for Lottery Jar
To incentivize more participation, consider giving away small prizes. They don't have to be expensive, just valuable to your audience. Here are some suggestions:
Exclusive Access: Offer winners a behind-the-scenes look, special content access, or an exclusive Q&A session.
Recognition: Sometimes, a shoutout on your next show or a feature on your social media can mean a lot to viewers.
Digital Downloads: Share e-books, courses, or other downloadable content related to your niche.
Merchandise: Branded merchandise like mugs, t-shirts, or stickers always excites fans.
Discounts: Offer a special discount or coupon for your service or a partner's service.
By integrating small incentives, you not only encourage more comments but also foster a sense of community and anticipation among viewers.
Empower your live streams with active conversations and interactions. Remember, an engaged audience is a returning audience. Start using these tools and see the difference for yourself!✨
Related Articles:
Perfecting Your Interviews: Leveraging Be.Live for Interviews
Creating a Lasting Impression: Effective Branding on Be.Live