Interviews can be a potent form of content, offering insights, sparking discussions, and building connections. With Be.Live, you not only have the platform to stream your interviews but also the tools to ensure they are impeccable. Let's delve into how Be.Live can elevate your interview game:
1. Why Choose Be.Live for Interviews
Be.Live is tailor-made for interactive content like interviews. Its intuitive design, seamless guest integration, and dynamic layouts make interviews not just easy to conduct but engaging for the audience.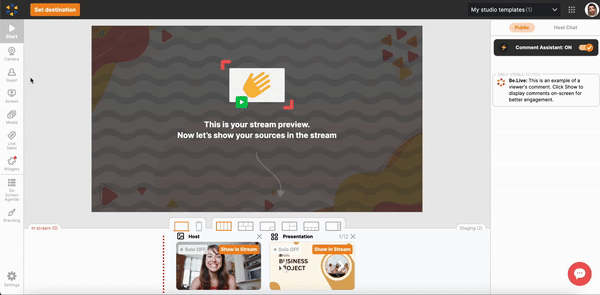 2. Effortless Guest Invitations
Gone are the days of complex setups. With Be.Live, inviting a guest is as simple as sharing a link. Whether your guest is on a computer or a mobile device, they can quickly hop into the stream without a hitch.
🔗 Learn more about inviting guests seamlessly on Be.Live
3. Preparing for Excellence
A smooth interview is often the result of meticulous preparation. With Be.Live, you get:
✔️ Agenda: Map out your interview with dynamic crawlers and lower thirds. Need some private pointers? Use the note section like a teleprompter to stay on track without revealing it to viewers.
🔗 Discover the power of Agenda
✔️ Private Chat: Need a quick word with your guest during a stream? Use the Private Chat feature to align and clarify.
🔗 Learn how to communicate effortlessly with guests
✔️ Nametags: Make sure your audience knows who's speaking with customizable nametags.
🔗 Customize and apply nametags here
4. Dynamic Layouts - The Visual Edge
Don't let your streams become visually stagnant. With Be.Live's various layouts, you can switch from side-by-side views to picture-in-picture, and many more effortlessly. Drag and drop participants to change their screen placement and keep your stream fresh and engaging.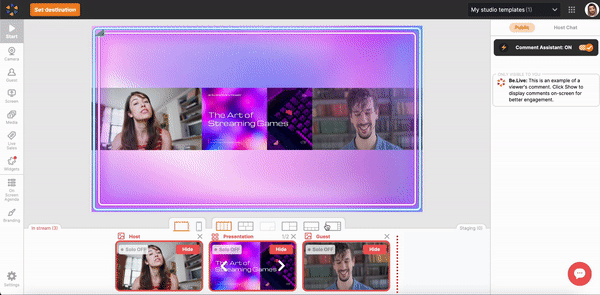 5. Beyond the Interview - Repurposing Content
The value of your interview doesn't end when the stream does. With Be.Live's Online Editor, you can create engaging snippets from your broadcast to share on social media. By doing this, you keep the conversation going and reach even those who might have missed the live stream.
🔗 Explore the Be.Live Video Editor and its features here
Incorporate these practices, and watch your interviews transform from standard Q&As to dynamic conversations that resonate with your audience. With Be.Live, every interview can be a masterclass in engagement and content creation.
Happy streaming!🌈
Related Articles:
Sparking the Conversation: Using Be.Live's Engagement Tools
Creating a Lasting Impression: Effective Branding on Be.Live