Learn how to stream to Amazon here, YouTube here and to LinkedIn here. To stream to multiple destinations simultaneously, click here.
Video Tutorial
Related video tutorial: How to Stream with Be.Live - A Complete Tutorial [YouTube]
Set-up
To go live, you need the following:
Desktop computer or laptop

The latest version of Chrome or Safari browser

Web camera

Stable internet connection to avoid lags and delays. We recommend using a hard-wired connection (ethernet).

A pair of headphones to avoid echo and feedback
Related article: How to Set Up an Account with Be.Live
Setting your broadcast destination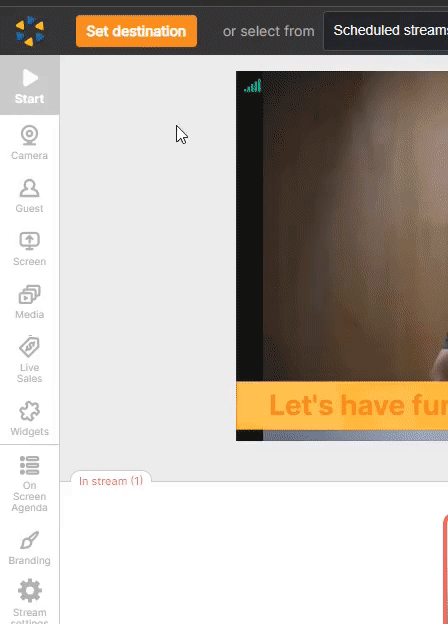 Log in to your Be.Live account using the latest version of Google Chrome or Safari.

Click Set Destination on the top left section of the studio.

If you want to schedule a Facebook broadcast, click here. If you want to go live now, do not enable the Schedule Stream toggle.

Select Facebook as your broadcast platform then select a specific destination (timeline or any page/group that you manage). If you cannot see your page or group in the list, click here.

Add a broadcast title and description.

Hit Save.
⚠️ Note: We do not require a stream key when broadcasting to Facebook.
Connecting your camera
Now that your destination is set, click Camera from the toolbar to push your webcam to the staging section: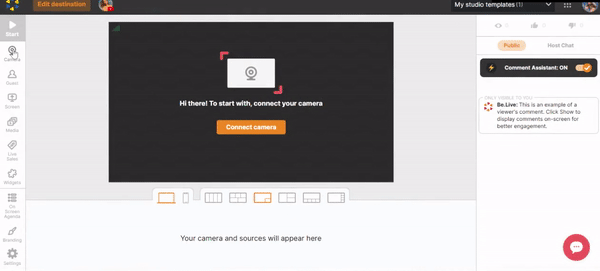 Related article: How to Check Camera and Microphone Settings Inside the Production Studio
You will notice 3 buttons on the camera source:
Show in Stream - pushes your camera source to the broadcasting section

Mute - disables your microphone (viewers stop hearing you)

Stop video - disables your camera (viewers stop seeing you)
Move yourself to the broadcast by clicking Show in Stream.
Starting and ending your broadcast
After pushing your camera to the broadcasting section, click Start to begin your broadcast. A 3-second countdown will appear to signal the start of the stream. To end your broadcast, click the stop button:
Related article: How to Download Broadcasts from Be.Live